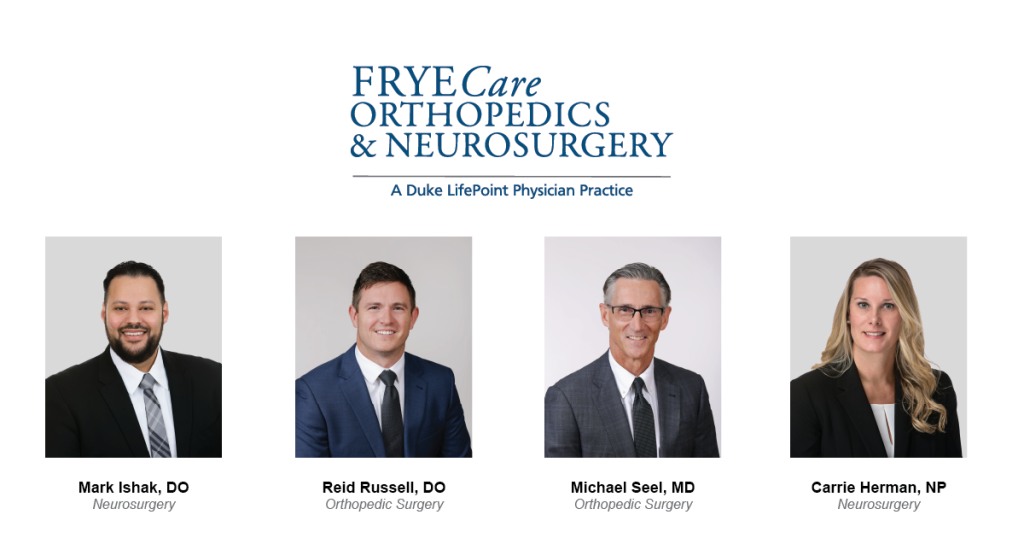 HICKORY, NC (June 1, 2022) – Two Hickory-area medical practices recently merged to become FryeCare Orthopedics & Neurosurgery, offering a unique, multispecialty approach to orthopedics – including sports medicine and minimally invasive total joint replacement – and the treatment of brain, spine and nervous system disorders. FryeCare Orthopedics & Neurosurgery is part of the FryeCare Physicians Network.
The combined practice (formerly FryeCare Orthopedics and FryeCare Neurosurgery) is now purposefully located at 1771 Tate Blvd. SE, Suite 101 in Hickory, next to the Frye Regional Outpatient Surgery Center and Outpatient Imaging Center. The recently renovated 6,500-square-foot clinic is also conveniently located less than a mile from Lenoir-Rhyne University. With FryeCare's new health care partnership with Lenoir-Rhyne Athletics, the providers and staff are able to offer quick and comprehensive sports medicine services for student-athletes.
Providers now seeing patients at FryeCare Orthopedics & Neurosurgery are Michael Seel, MD, orthopedic surgeon and joint replacement specialist; Reid Russell, DO, orthopedic surgeon and sports medicine specialist; Mark Ishak, DO, neurosurgeon and spine specialist; and Carrie Herman, NP, nurse practitioner. The providers are active members of the medical staff at Frye Regional Medical Center. For more information or to schedule an appointment, call 828-304-2527 or visit FryeCarePhysicians.com.
"Our new, merged medical practice is an exciting step forward for FryeCare and Frye Regional," Dr. Ishak said. "It demonstrates our commitment to the community to offer advanced orthopedics and neurosurgical services close to home."
"We are excited to collaborate and share technology and other resources – creating the best possible outcomes and experiences for patients of all ages from student-athletes to seniors," Dr. Russell added.
Nationally Recognized Total Joint Replacement Surgeon Joins FryeCare
FryeCare Physicians Network is pleased to welcome Dr. Michael Seel, a board-certified orthopedic surgeon, to FryeCare Orthopedics & Neurosurgery, effective June 1, 2022. Same-week appointments are available.
Dr. Seel specializes in the diagnosis and treatment of hip and knee pain. He has expertise in complex joint replacement surgery, using the most advanced robotic-assisted surgical system with an emphasis on restoring patients to an active and pain-free lifestyle. Dr. Seel provides complete care management from pre-operative evaluation and surgery to rehabilitation and follow-up care. In addition to his medical practice, Dr. Seel will serve as medical director of orthopedics at Frye Regional Medical Center.
He offers a wide range of orthopedic services, including minimally invasive total joint replacement, robotic-assisted total hip and total knee replacement, direct anterior total hip replacement, short-stay and outpatient total joint replacement, and arthroscopic knee procedures.
Dr. Seel earned his medical degree from the University of Pittsburgh in Pennsylvania. He completed an internship and residency at Mayo Graduate School of Medicine in Rochester, Minnesota. He is fellowship trained in adult reconstruction surgery at Rush Medical College, Chicago, Illinois.
Dr. Seel is also specially trained and experienced in MAKOplasty, which uses robotic-arm technology for total knee, total hip and partial knee replacement surgery for greater precision and quicker recovery than conventional approaches. Frye Regional Medical Center recently installed the Unifour region's first robotic-assisted technology for joint replacement.
Prior to joining FryeCare, Dr. Seel practiced medicine at the Allegheny Health Network Orthopedic Institute in Pittsburgh. He was recently recognized as a "Top Doctor" in Pittsburgh Magazine. The Castle Connolly Top Doctor list selection is peer-nominated, entirely merit-based, and includes the best doctors in the nation.
"Seeing an orthopedic surgeon does not necessarily mean you will need surgery," Dr. Seel said. "I am committed to educating my patients on all their options to alleviate pain, restore function or repair damage. I am especially passionate about helping people with joint pain caused by arthritis or injury to remain as active as possible for as long as possible, which may include everything from physical therapy and medication to surgery."
MEET THE TEAM: Join the providers and staff at FryeCare Orthopedics & Neurosurgery for a Chamber of Catawba County Ribbon-Cutting Celebration on Thursday, June 16 at 11:30 a.m. Tours will be offered immediately after the ceremony and remarks until 12:30 p.m. For more information, call 828-304-2527.
Read All Posts