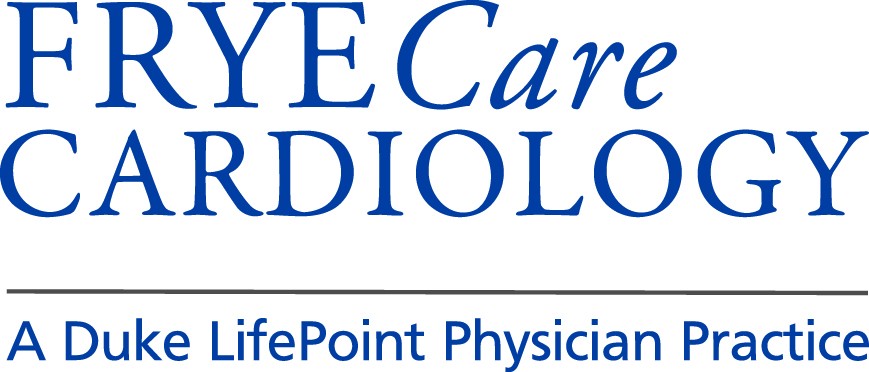 Combined practice includes 18 experienced heart specialists under one roof
HICKORY, NC (April 4, 2022) – Two Hickory-area cardiology practices recently merged to become FryeCare Cardiology, creating the largest and most experienced team of heart specialists in Catawba County. FryeCare Cardiology is part of the FryeCare Physicians Network.
The two medical practices, FryeCare Cardiology Associates–Piedmont and FryeCare Cardiology Associates–Hickory, together have 12 heart doctors and six advanced practice providers. The combined practice is located at 2660 Tate Blvd. SE, Hickory (formerly the home of the Piedmont cardiology practice). For more information or to schedule an appointment, call 828-261-0009.
"By joining forces with another top cardiology practice, we can offer our patients access to a wide range of cardiovascular services from a highly trained team of cardiologists, interventional cardiologists, cardiac electrophysiologists and other providers," said John Morrison, MD, a board-certified interventional cardiologist. Dr. Morrison has been associated with the Piedmont cardiology practice since 2006.
Providers now seeing patient at FryeCare Cardiology include:
Ghassan Alkoutami, MD, Cardiologist
Leverne Fox, MD, Interventional Cardiologist
R. Norman McDonald, MD, Interventional Cardiologist
Srinivas Mikkillineni, MD, Interventional Cardiologist
John Morrison, MD, Interventional Cardiologist
Phillip Papsa, MD, Interventional Cardiologist
Sanjay Patel, MD, Interventional Cardiologist
Vincent Patrone, MD, Interventional Cardiologist
W. Curtis Pearcy, MD, Cardiologist
Pairoj Rerkpattanapipat, MD, Cardiologist
Ankur Tiwari, MD, Cardiac Electrophysiologist
Thomas Wiley, MD, Cardiac Electrophysiologist
Andrew Call, PA-C, Physician Assistant
Kevin McMahon, PA-C, Physician Assistant
Melanie Hensley, NP, Nurse Practitioner
Tina Lum, NP, Nurse Practitioner
Arianna Starnes, NP, Nurse Practitioner
Twilla Walker, NP, Nurse Practitioner
"The merger of these two distinguished practices provides patients with a team of 18 providers with more than 350 years of combined experience now in one central, convenient location," said Thomas Wiley, MD, a board-certified cardiac electrophysiologist. Prior to the merger Dr. Wiley saw patients at FryeCare Cardiology–Hickory since 2006. Also relocating to the expanded FryeCare Cardiology office are Drs. McDonald, Patel and Pearcy, and nurse practitioner Twilla Walker.
The recently renovated 2,500-square-foot medical office is home to a Heart Failure Clinic and an in-office Heart Diagnostic Center, which offers echocardiography, electrocardiography, Holter monitoring, nuclear cardiology, peripheral vascular testing, stress echo and treadmill stress testing. The facility features plenty of free parking with handicap-accessible parking spots. FryeCare Cardiology also has convenient locations in Boone, Lenoir, Lincolnton, Rutherfordton and Valdese.
Upon completion of the necessary diagnostic testing, the heart specialists then work with the referring physician to determine the best possible course of treatment. In addition to testing, monitoring and therapies, the team provides guidance to help patients learn how to prevent disease through healthy lifestyle choices.
The team at FryeCare Cardiology offers minimally invasive and non-invasive procedures for the treatment of cardiovascular conditions, including angioplasty, cardiac catheterization, medical therapy, pacemaker and defibrillator implantation and monitoring, radio frequency arrhythmia ablation and stent placement. All providers are active members of the medical staff at Frye Regional Medical Center.
The Frye Regional Heart Center is the first Duke Health heart affiliate in western North Carolina. Backed by the resources of the Duke Heart Center, FryeCare Cardiology has access to the most current Duke training and staff education, evidence-based guidelines and practices when it comes to heart-related issues.
FryeCare Physicians Network offers preventive, diagnostic and treatment services in a compassionate environment – close to home. The network includes more than 70 experienced providers in a range of specialties, including cardiology, cardiothoracic surgery, family and internal medicine, infectious disease, nephrology, neurology, neurosurgery, obstetrics and gynecology, orthopedics, pulmonology, and vascular surgery. Learn more at www.FryeCarePhysicians.com.
Read All Posts